ICONS Choreographic Institute at ATLAS
ICONS CHOREOGRAPHIC INSTITUTE AT THE ATLAS
2023-24 Academic Cohort Season
An innovative curriculum designed by Vladimir Angelov, Founding Director
This twice-a-week residency program for busy professionals takes place on evenings/weekends for 8 months: full winter and spring semesters: 52 lectures in 27 weeks
Program Dates: October 2023 – May 2024
Sessions meet on Wednesdays 7:00 PM – 9:00 PM & Sundays 11:00 AM – 2:00 PM
(Except Thanksgiving week, December holidays, and Easter week)
This post-graduate artistic development residency and creative laboratory for busy professionals is specifically designed for aspiring and emerging choreographers working in any dance genre and movement form. The program takes place twice a week on evenings and weekends with full winter and spring semesters from October 2023 to May 10, 2024. Sessions meet on Wednesdays 7:00 PM – 9:00 PM & Sundays 11:00 AM – 2:00 PM. The course of work culminates in each choreographer's creation of an original one-act dance work (25-30 minutes in length) as part of New Works Dance Concerts at the Lang Theater and the bestowment of Professional Diploma Certification in Choreography.
THE COMPLETE PROGRAM PACKAGE INCLUDES:
– Lectures with PowerPoint Presentations and short dance videos views with discussions, analysis, and opinions
–  A safe and supportive environment fostering artistic experiments in the format of a creative laboratory
–  Develop and premiere a new 12 to 25-30minute group work in a fully-produced concert at ATLAS' LANG THEATER – May 2024
–  Dedicated costume and lighting designer for the New Dance Works Concerts
–  Winter Dance Audition and casting session with local and affiliated DC metro area dancers
–  4-5 hours per week free rehearsal space at ATLAS, starting in February 2024, during weekdays, and weekend mornings and evenings
–  Free 2-year membership in Dance ICONS, Inc. – a $150 value, featuring access to global choreographic resources and opportunities
–  Priority for free Choreographic Conferences with prominent guest speakers. Past conferences have included Rennie Harris, Debbie Allen, Annabelle Lopez Ochoa, Kyle Abraham, Liz Lerman, Mats Ek, etc., prominent guest lecturers and scholars.
–  Official ICON SMART℠ DIPLOMA CERTIFICATION acknowledging the completion of the program
–  Digital filming and photography of the performances of the new works with a copy available on Dropbox
–  Discount on tickets at performances at the ATLAS and Free Pass Card for the Annual INTERSECTIONS FESTIVAL performances
–  Free signature ICONS T-Shirt and, closing season receptions – May 2024
–  Formal dance training in school/college and performance experience in any dance style or genre
–  Artistic drive and passion to choreograph!
– In-studio movement research and dance assignments, mentoring, and work-in-progress feedback sessions
For any questions, please reach out to Vlad Angelov at
TO APPLY FOR THE INSTITUTE:
1. Please review the INFO PACK for details about the schedule, tuition, and program curriculum
2. Please fill out the interest form below, including as many details as possible.
3. We will contact you back soon to answer any questions
4. Application deadline Aug 31, 2023.
REQUIREMENTS
• Formal dance training in school/college and performance experience in any dance genre or movement practice
• Artistic drive and passion to choreograph!
• Required Program Textbook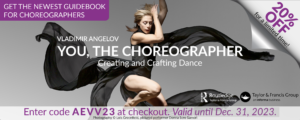 TUITION:
$4,000 in total for the entire 8-month program, paid in 8 monthly increment of $500 on the first Wednesday of each month from October 2023 to May 2024.
The above tuition covers all Wednesdays lectures with the Artistic Director Vladimir Angelov, and many special guest lecturers; all Sundays dance class demonstrations and analyses; creative exercises and experimental movement laboratories  in Lab 1, and on the Lang Stage.
Included in the tuition are also participation in the Fall Dance Improvisation Festival and the conducting of a Dance Audition on the Lang Stage to cast the artists needed for your new work.
The tuition also covers the entire rental for all 52 hours rehearsal hours needed to create an original work, as well as all the production costs such as: Rental of the Lang Theater at Atlas Performing Arts Center; costume design and construction; lighting design and stage setup; all the spacing and technical rehearsals; promotional and advertisement expenses; archival videotaping of your work, and post-graduation reception.
The participant's tuition above is only a fraction of the total actual cost of running our program.  The rest of the expenses are covered by the Dance ICONS, Inc. via grants and fundraising.
Therefore, the program does not offer any scholarships at this point; however, in very rare cases established by financial evidence, we might be able to offer a very minimal need-based discount.
WE WOULD LIKE TO HEAR FROM YOU AND LEARN ABOUT YOU!
EXCERPTS FROM THE ORIGINAL DANCE WORKS OF THE CHOREGRAPHERS FROM COHORT 2022-23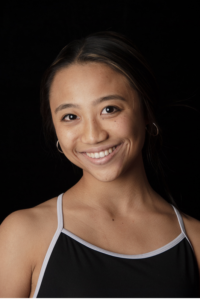 The Perfect Doll
Choreographer: Noa Kamiya
Dancers:
Amelia Otte, Charlotte Brown, Ellie Bottio, Jaina Simon, Leah Bulson, Raquel Daley, and Rona Shacham
The Perfect Doll is a response to the common Japanese saying: "The nail that sticks out gets hammered down". This piece of choreography is a critique of conformity and the struggle to fit into cultural norms, specifically through the lens of the choreographer's own background — but can be applied to any society.
Ever since moving to the US from Japan at age ten, I`ve always found the contrast between Japanese culture of conformity and America`s individualistic culture to be fascinating. I wanted to present a piece that introduced those two conflicting ideas on the same stage, by showing how one can find their authentic self in a society where doing so was often frowned upon.
Quotation of dance manifesto:
Dance is a way for me to express how I see the world. It allows me to uncover deep emotions that I would otherwise not be able to recognize and bring up to the surface to share with others.
After moving to the U.S. at age 10, Noa continued her passion for dance through rigorous training and performance program at CityDance Conservatory, studying across multiple genres with merit scholarship. Noa participated in CityDance summer intensive programs including Koresh Dance Company, Philadanco, Gallim, DTH, NDT, as well as dancing in specialized CityDance ignite artist projects with Sarah J. Ewing and Dancers. She is attending NYU Tisch school of the Arts next year to deepen her dance studies at the university level. Noa's goals include dancing professionally and linking her psychology interests to her dance trajectory.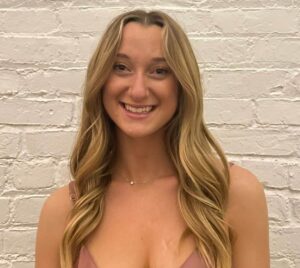 Tr(us)t
Choreographer: Millicent
Parker
Dancers: Angel Ramirez, Rachel Lawal, Naomi Turner, Chynna Golding, Gaby Milazzo, Alexandra McGriff, Lydia Hill, Victoria Davis, Nilton Rodney
Tr(us)t is a piece which explores trust. From finding trust within yourself, to creating trust within family, friendships, and relationships in general. The closest people you have in your life are the people you trust the most. Building a stable connection with others builds a secure relationship between one another. Once trust is broken it is difficult to rekindle that relationship. Building relationships can be beautiful and ugly. I will show trust vs mistrust in relationships.

Renacimiento
Choreographer: Angel V

Ramirez

Dancers:
Victoria Davis, Noa Kamiya, Skye Sibirian, Gaby Milazzo, Alexandra Mcgriff, Rachel Lawal, Sarah Moore, Jullie Yelle, Meghan Letizia, Chyna Golding, and Sarah Coady
Renacimiento (Rebirth), choreographed by Angel Ramirez, is a dance about leaving a home country and entering a new country in search of a better life.
Mr. Ramirez shares: "This dance piece explores the concept of changing and fitting in. Based on personal experience, I'm interested in creatively exploring how an individual is affected and shaped by the pressure to adapt to a new environment. This dance also engages with the feeling of loneliness during a long journey, and reveals the anxiety caused by unfamiliar circumstances. Besides natural birth, at a certain point in life, a person may also experience a major revelation leading to the new emergence of the self – a rebirth."
Quotation of intent:
Leaving my home country and trying to fit into a new country was one of the hardest things I've had to do in my life so far. I've had to face many challenges to become the person I am today This drastic change of setting changed me in many different ways that have forced me to learn new perspectives on life. There is a huge culture shock that has to be faced when going from a small country in Central America to the USA.
Quotation of dance manifesto:
Dance to me is a hidden language that allows me to artistically communicate without speaking. It allows me to showcase different feelings through abstract movement and it allows me to freely move with many different intentions. Its diverse aspect also allows me to work with many different genres of dance.
Biography:
Angel Ramirez is a dancer/choreographer based in the D(M)V. Angel was born in El Salvador, Central America and fluently speaks Spanish and English. Angel began his formal training in early 2017 at CityDance conservatory in North Bethesda MD. He will earn his degree in choreography in May of 2023 from the ICONS Choreographic Dance institute at ATLAS in Washington DC.
​His performance experience includes various works by Bruce Wood Dance, Koresh Dance, YY Dance, Alex Neoral (Focus Cia de Dança Company), Choreographers Willy Tsao, Earl Mosley, Wang Yuanyuan, Robert J. Priore, and Sarah J. Ewing, Bayardo Jr Martinez, Millie Parker etc. ​ Angel has a strong passion for dance and choreography and has set pieces at the Strathmore arts center and worked for many local dance studios.
Angel is very ambitious and strives to work hard everyday and will continue to set pieces around the DMV and collaborate with many other local artists.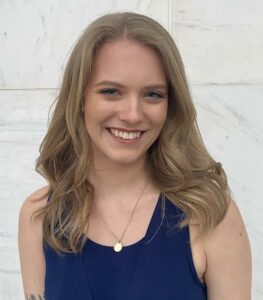 they had light inside
Choreographer: Faith Rokowski
Dancers:
Meghan Letizia, Rebecca Scruggs, Jack Klika, Kaya Mueller, Sarah Coady,
Rachel Timmerman,
Julia Conte,
Sarah Moore,
Harriet Gordon,
Lydia Hill,
Chynna Golding, and
Emily Gardner
they had light inside is a piece about the end of the world. It considers the dueling human experiences when faced with an immovable circumstance through movement, dance theater, and sound.
Quotation of intent: The world has changed irrevocably in the last 3 years – and art and fiction exist to reflect those anxieties. What I feel that dystopian media is missing in its depiction of apocalypse, is the inherent humanity that doesn't just die out. This piece came from answering the question posed by author Emily St. John Mandel, "If hell is other people, what is a world with almost no people in it?"
Quotation of dance manifesto: Dance is the manipulation of energy. The growth towards recession from a moment of resistance in a movement, a phrase, and an entire piece. The manipulation of energy within the body, in the space, and between performers.
Short biographical information: Faith began taking recreational dance classes at her home studio in South Hadley, MA until she graduated high school – and then quit dance for the majority of college. While a senior at American University, she danced with AU In Motion for one year, then left dance again for three more years. Most recently she has danced recreationally with companies around the DMV area, and teaches children at Bethesda Dance Center.