Atlas
'
 Youth Summit
will be a facilitated conversation with 
area youth
arts organizations and their participating young artists discussing 
events of the past year and the impact it has had on 
young people's lives and the creation of 
their art.
 Each participating organization will share a short clip of their work in the areas of theatre, dance, and music.  The group 
discussion 
will be
 led
and hosted by 
the Atlas' City at Peace
 Director San
d
ra Holloway together with Directors of other 
participating 
youth arts 
organizations
 and 
their 
students
.  City at Peace is the Atlas' 
social justice youth development pr
ogram. 
Participating Youth Groups
City at Peace
City at Peace is a youth development program for teens and young adults ages 14-24, which provides a safe, collaborative and nurturing space outside of school and other environments where they can examine issues and conditions that divide them. City at Peace is rooted in social justice and uses performing arts as a learning tool to develop skills in dance, theatre, voice, and stage production, as well as skills in conflict resolution, personal storytelling, empathy, understanding, and leadership. Meet members of the virtual City at Peace cast in our recent interview here.
Voices of Now
Through Voices of Now, Arena Stage provides an artistic home for ten ensembles of artists in middle school, high school, university, and beyond. Voices of Now artists devise autobiographical plays that are fast-paced, collaboratively written physical theater pieces that pose challenging social questions relevant to the artists and their communities. The Voices of Now ensembles have gone digital, building art and creating a time capsule that will speak to this moment in time. This video is one of the pieces created by the Mentor Ensemble.
Elements of DC
Elements Dance Company is a Pre-Professional Urban Dance Training Program for dancers ages 8-18. Dancers in the program receive a comprehensive education in all forms of Urban Dance, such as bboying/bgirling, Hip Hop,  locking, popping, house, krumping, waacking, voguing, and various forms of commercial dance. Dancers also have the opportunity to train with industry professionals and perform at many noteworthy events and venues.
​
The Musicianship
The MusicianShip's mission is to change lives by facilitating music lessons, experiences, and opportunities to benefit those who need us most. At our core, we are a youth development organization that offers a wide range of music education programs, geared towards enriching the lives of students, their families, and the communities in which they live. Our After-school, Summer, Master Class, and Ensemble Programs, such as the Washington Youth Choir, serve youth ranging from 5 years old all the way through the age of 24. And while we are based in Washington, DC, we reach students as far as South Africa, Paris, and Sint Maarten.
Dramatic Solutions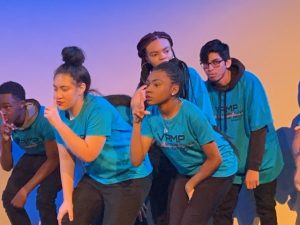 The City at Peace interview with Laura Coates will be available on this page soon.