Drowning….A Sensoria Story 
The Sensoria production intends to activate the audience's senses.  Meaning where thought and feeling live together, Sensoria is an artistic experience created by Dr. Renaissance in 2018. Sensoria productions first intend to activate the audience's sense of hearing and sight and sometimes even taste, and simultaneously intend to activate an individual's deeper senses…the sense of self (awareness/worth), self of others (empathy), and the sense of peace, never to be confused with quiet. 
This Sensoria Story settles in on grief…is it a beautiful reminder that love once and still exists? Or a painful companion that leads to the depths of isolation? Inspired by real events, "Drowning…A Sensoria Story," explores the intersection of love and loss. Join this collective of artists for a multi-sensory experience blending dance, acting, comedy, spoken word, live music, and live painting to connect the audiences' experiences with the hope that grief becomes something we live with and not run from.
About the Company
New Renaissance Arts is a performing arts company with dance central to its core. Our movement languages include Hip-Hop, Jazz, Contemporary Lyrical, Ballet, Tap, Afrobeats, and Modern. Our multi-disciplinary approach to these performances are aimed to entertain and enkindle. 
In addition to theatrical work in spaces as the Warner Theatre, New Renaissance prides itself its breaking the proscenium barrier in extending our efforts our surrounding and extending communities. Our most recent endeavors include the Mental Health and Dementia Walk in DC, Rocky Horror Picture Show in Philadelphia, and guest performers at Gallaudet University. 
Our intention is that the audience participates in an experience instead of merely watching a show. We want you to enjoy the show but also leave with food for thought.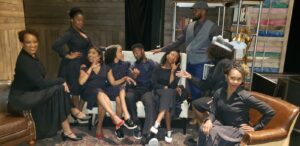 About the Playwright/Artistic Director, Dr. Renaissance
The evolution of Dr. Renaissance, affectionately known as "Doc" is rooted in both science and the arts. Doc earned his PhD in 2019 in Cancer Biology following a successful career as a Biomedical educator at the secondary and university levels and is currently working in the Biopharmaceutical industry. Doc enjoyed years of gymnastics and Hip-Hop dance at the University of Maryland.  He trained extensively under Culture Shock DC and has enjoyed years of performing and teaching in the US and abroad. Through experience of Artistic Direction of companies including Future Shock DC, Afta Shock DC, and Splittin' Image, Doc was lead to the direction of his own company, New Renaissance Arts. 
The fusion of arts and science for the greater good is at the core of Doc's life and he enjoys intertwining logic and creativity to operate in the space of healing. This began with using dance as supportive therapy for sexual assault victims and in 2020, Doc formed One More Plate, Inc., a non-profit focused on bridging the gap between food resources and our currently unsheltered neighbors. In 2021, Doc was signed as modeling, acting, and voice acting talent in addition to dance by Main Line Models and Talent, a new and exciting frontier. Doc was last seen as Rocky in the live shadow cast of the classic Rocky Horror Picture Show and as Slink on Netflix's Dance Monsters.