The free Café Concert series is a perfect chance to experience the magic of the Atlas. Grab a seat or dance near the stage and enjoy a performance by a local artist. Cafe Concerts include musical and spoken word performances. The Atlas Café in the lobby offers light fare, snacks and a variety of drinks. The Café opens at least one hour before the show, remains open through intermission, and is open 30 minutes after performances.
Largest Neighborhood Street Festival in DC!
H Street Festival is one of the most anticipated and highly attended single day festivals in Washington D.C. The festival is 11 blocks long and has 14 staging areas that are diversely themed and programmed to target the different segments of audiences. The staging areas feature music of different genres, dance, youth-based performances, interactive children's program, fashion, heritage arts, poetry and many more.
The festival started as a 500 participant bloc party more than 12 years ago, it has now grown into a 150,000 participant event. The change is immense and the impact is lasting. By using the arts as a principal motivator of the festival, it has proven the arts can be a valuable agent in impacting economic growth. The festival also has a direct impact on reducing commercial building vacancy rate on the H Street Corridor from 75% to under 5%. H Street Festival has successfully utilized arts as an engine for the growth for the historic neighborhood.
We have activity stations that focus on participatory artwork, informational stations that promote arts education, and exhibitor stations that showcase D.C. based artists. The depth and range of arts presentations are incomparable to any other festivals.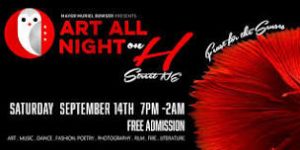 Feast for the Senses – Prepare to listen, engage, emote, explore & immerse! We aim to present a stimulating adventure challenging creative boundaries & enriching artistic endeavors. It is an H Street Experience you'll never forget!